Introduction
Last week, we announced that we changed our name to River Financial, and that we're building the best place to buy, sell and use Bitcoin for the long-term investor. Today, I'm excited to share more information about our product, and the vision of the company moving forward.
If you would like early access to the platform, you can request an invitation here. If you have requested early access, and live in a state we can support, you will be receiving your invitation over the next few weeks!
Our Vision
We believe that Bitcoin is a paradigm shift in the economic history of the world, and that existing financial institutions are not culturally or technologically prepared to support this new form of money. We believe that Bitcoin will continue to grow in its role as a globally recognized currency and store of value, and will eventually sit alongside or challenge today's government-backed fiat currencies. If this hypothesis is correct, large amounts of wealth will continue to flow into Bitcoin – a trend we plan to help facilitate.
In the near-term, we see the bulk of demand for Bitcoin financial services being driven by consumers' desire to build and store wealth. Increasing numbers of people will be saving and earning Bitcoin in the coming years, and we will build products focused on accelerating this trend. Historically, consumers have been hesitant to spend Bitcoin, but we may see that change with the growth of the Lightning Network.
We expect Institutional Bitcoin adoption to continue to lag consumer adoption. However, we have seen some indications of growing institutional demand for Bitcoin financial services, and we plan to explore product offerings in this area next year.
In the very long term, we expect Bitcoin to significantly disrupt the monetary systems of the world. It is too early to predict when this will come or exactly what it will look like, but we are excited to play a role in defining the next era of monetary and economic history.
Our Product Today
We have built a platform exclusively for Bitcoin investors. Our clients can:
Buy Bitcoin with the click of a button
Setup automated, recurring Bitcoin purchases with discounted fees
Withdraw and deposit Bitcoin on-chain
Withdraw and deposit Bitcoin via the Lightning Network (beta)
Talk to a human for support
Access insightful account performance data (coming soon)
...and much more to come!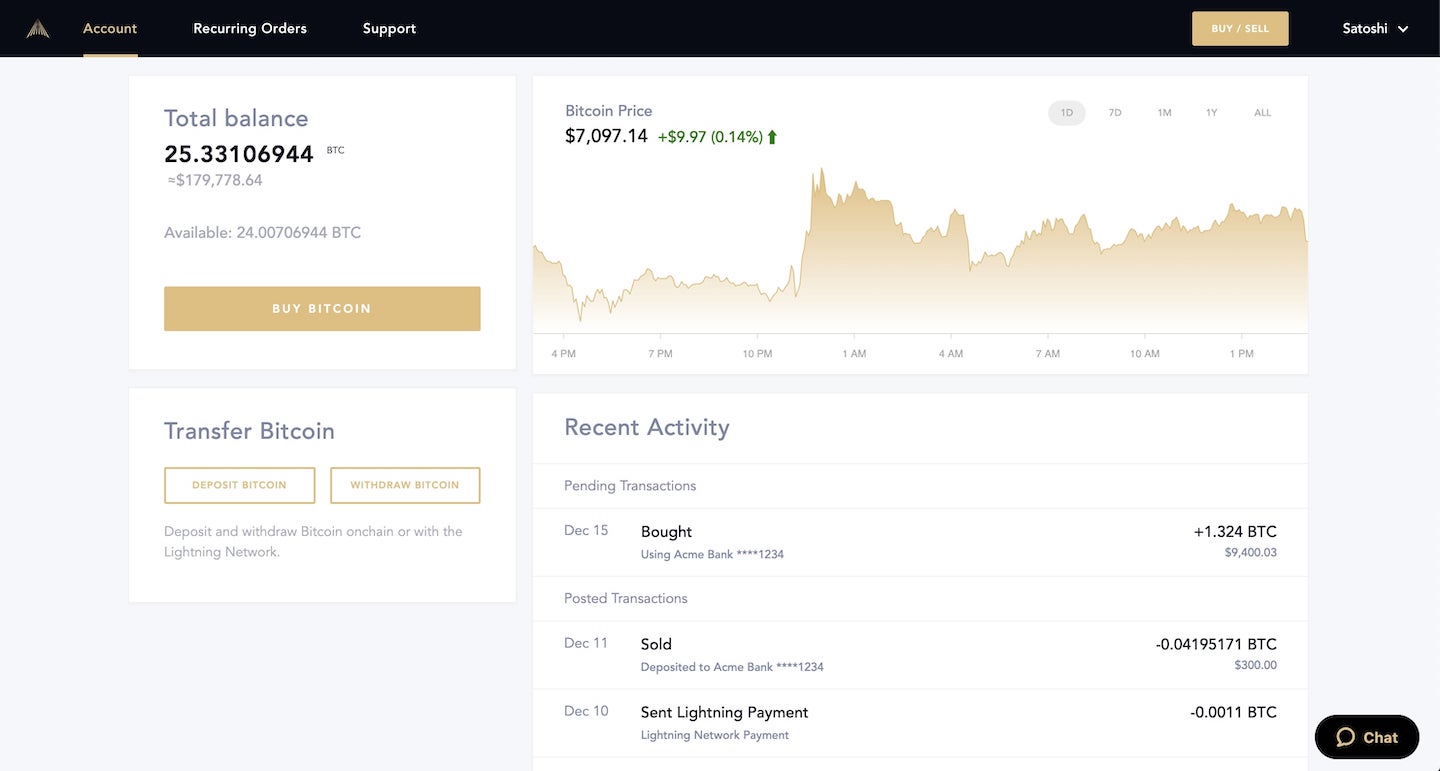 Security
At River Financial, security is of paramount importance and deeply ingrained in our organization. Both founders of the company are security professionals. Behind the scenes, we have built our Bitcoin infrastructure, both software and hardware, from the ground up. Our core applications do not run in the cloud, but on our own server clusters securely stored in a military-grade vault that requires multiple individuals to access. We store the vast majority of Bitcoin offline in multi-signature wallets that are geographically distributed and replicated.
World Class Service
Finally, a world-class Bitcoin infrastructure means nothing without world-class service. That is why all of our clients will have access to human phone and chat support during business hours.
Over the next year, we will be hard at work shipping new features, expanding into new states and scaling our team so that we can bring the best of Bitcoin to as many people as possible.
FAQ
Which states will River Financial be able to serve?
Please see our knowledge base for the most up-to-date list. If your state is not on the list, please sign up for the waitlist and we will notify you when we are able to serve residents in your state.
Do you plan to support cryptocurrencies other than Bitcoin?
No. For economic and technical reasons, we believe that Bitcoin is the only cryptocurrency on a trajectory to become a global currency.
What payment methods do you support?
ACH payments are currently the only supported payment method. We plan to support bank wires soon.
I am an active trader, can I use your product?
Yes, however our product is not built for traders and you will probably find exchanges like Kraken or Gemini more suitable for your needs.
Do you support SegWit?
Yes, all deposit addresses are native SegWit by default.
Will you support sending to SegWit v1 taproot/schnorr addresses if BIP-taproot is accepted by the network?
Yes.