Introducing the River Hardware Wallet Account
Bitcoin is the first monetary asset that makes it simple for everyday users to take full custody of their funds. At River, we embrace this ethos and strive to make self-custody as easy as possible for our clients. With the new Hardware Wallet Account you can buy Bitcoin on River.com and send to your personal custody without losing visibility into the history, performance, and tax data associated with your coins.
The River Hardware Wallet Account is an extension of your own hardware wallet, serving as a non-custodial wallet interface for your device. By connecting your hardware wallet to River, you will be able to do the following:
View your wallet balance and transaction history on River;
Track your investments with our performance dashboard and tools;
Generate addresses and receive bitcoin;
Keep your tax lot information when transferring from your River brokerage account to your own custody.
In short, with a Hardware Wallet Account, River can see your coins, but cannot control them.
Getting Started
This is currently a beta feature. To open a Hardware Wallet Account with River, please contact support@river.com. Today, we support registering Ledger and Trezor hardware wallets (Coldcard support is in the works).
Opening a new River Hardware Wallet Account is a seamless process that takes less than a minute. Here's how:
Visit the New Account Page and select Hardware Wallet
Select your hardware wallet device.
Follow the instructions specific to your device.
Name the account.
Enjoy the non-custodial experience at River.
View your wallet balance and past transactions.
Track performance.
When you transfer coins you purchased in your River brokerage account to your Hardware Wallet Account, the cost-basis information will automatically be transferred for you.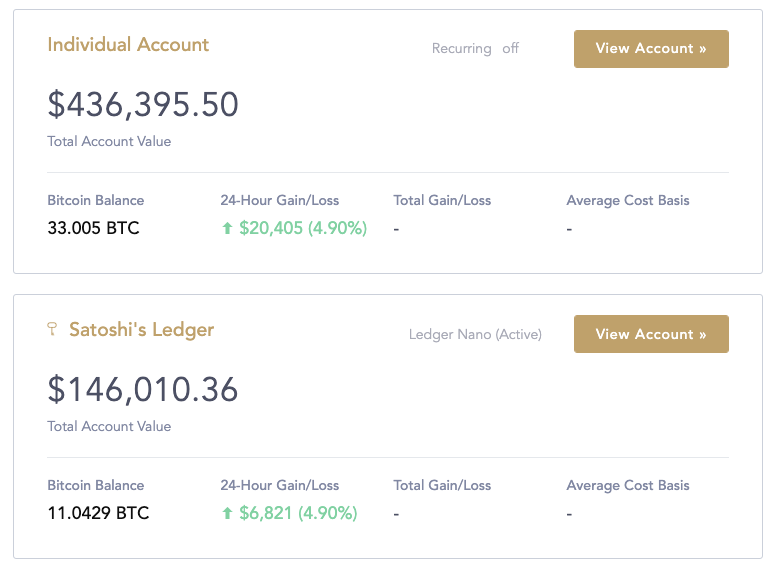 Generate deposit addresses.
We have additional support resources available on our Knowledge Base.
Moving Forward
Powering the Hardware Wallet Account feature is our home-built Enterprise Bitcoin Infrastructure, which allows us to build next-generation non-custodial and pseudo-custodial services. We are actively developing new features to enable you to:
Securely send transactions from your device on River; and
Utilize River's enterprise wallet for fee estimation and coin selection.