Lightning Moves Fast, Media Moves First ⚡
The Lightning Network enables a near-instant, global value exchange that can scale down to fractions of a penny at transaction costs that would make Visa and Mastercard blush.
You may have been following Lightning from the sidelines, in this newsletter we explore some Lightning-focused companies, use cases, and applications you can use today.
A Fountain of Knowledge, at the Speed of Light(ning) ⛲
Fountain is a podcast app powered by the Lightning Network that has unique features which separate it from a typical podcast platform.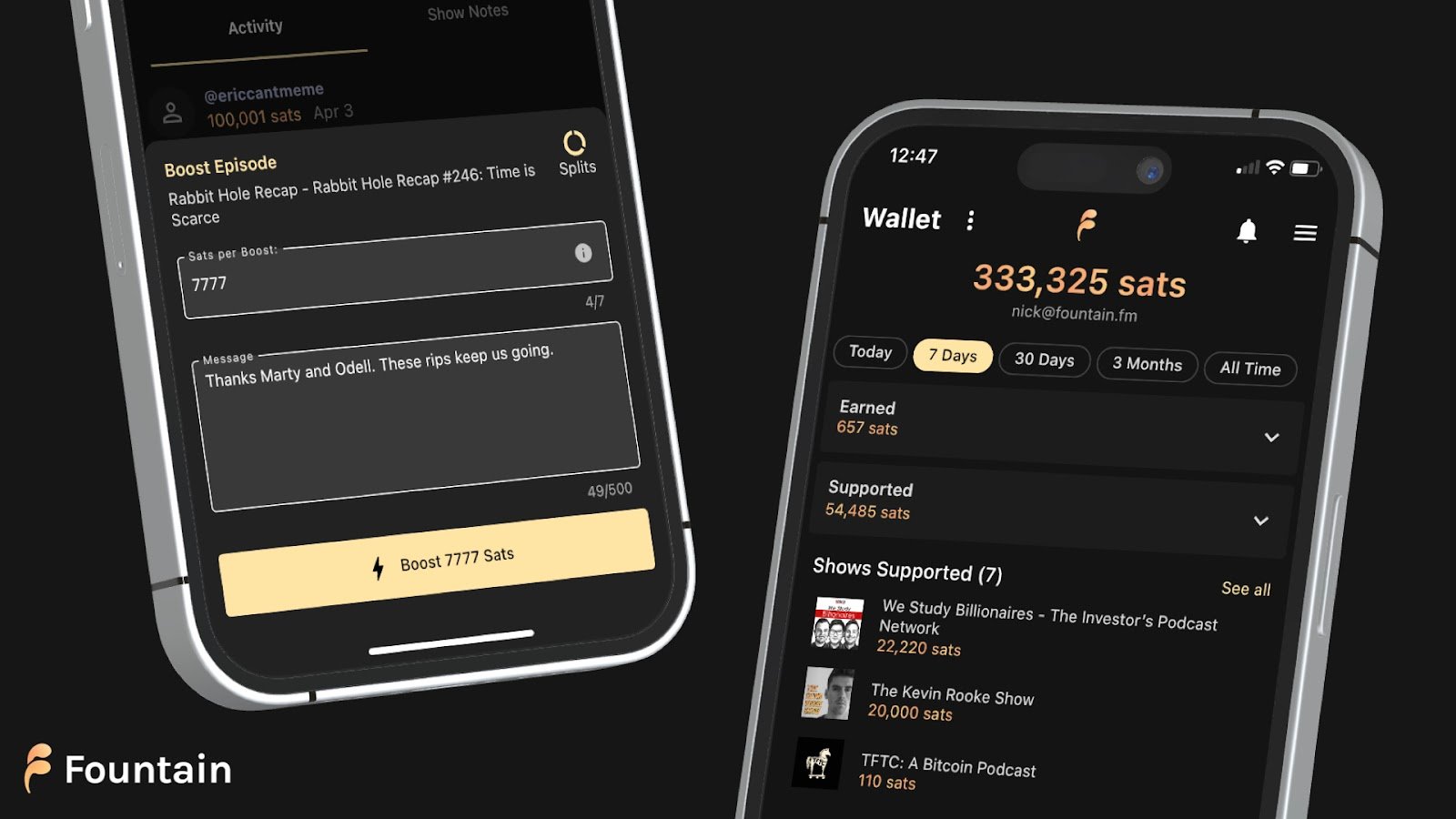 You can earn sats for your first hour of daily podcast listening on select days.
You can create clips of the best moments from podcasts and earn sats when they get liked by other users.
You can support your favorite podcasts by sending sats to content creators.
Fountain charts the most supported shows and episodes each week on Twitter. They're worth a follow if you're into Bitcoin podcasts and interested in seeing this use case grow.
You can use your Lightning wallet on River to send sats over to Fountain to support all the great Bitcoin-related content they have. When you earn sats by creating clips or content, you can always move them back to your River Lightning wallet.
In exciting news, and full disclosure, we are partnering with Fountain to help support and grow Bitcoin education.
Mash - A Lightning-powered Paywall Provider ⛈️🚦
Mash helps content creators, websites, and game developers earn a living from producing content. It is a customizable media monetization service with a suite of plug-and-play options.
This product is great for people who are frustrated with subscriptions and expensive, inflexible paywall models.
Some monetization options include one-click boosts, pay-as-you-use pricing, customizable paywall options for website pages, asset downloads, and embedded audio and video content.
Content creators maintain 100% control of their own pricing structure.
VIDA – Where Your Time is (Hard) Money
Spam, telemarketers, and time-wasters are a drain on your bandwidth; wouldn't it be great to monetize your time and deter unserious conversations with one solution?
Vida enables anyone to set up paywalled messaging and video calls. Livestreamers and podcasters can use Vida in a similar fashion to earn sats for creating live content.
Your time is in good hands with Vida – set per-minute rates for video calls, and rest easy knowing that reservations and meetings are both paywalled.
Not a video chat person? Not a problem – set a per-message rate and earn sats for your time that way, too.
It is worth noting that a similar business model was previously attempted by 21.co/Earn some years ago, but did not get major traction. Time will tell if Vida is able to gain traction in the market with their version of the service.
Pioneering Value-for-Value on Nostr
Legacy social media applications seem to be betting on subscription models, algorithmic content curation, and driving traffic by creating conflict.
Meanwhile, the Nostr community has been hard at work, building a base-layer communications protocol that is poised to be so much more than another social media fad.
However, on Damus, an iOS-native Nostr application, your timeline only displays content from people you follow.
Also, the Nostr protocol has integrated the Lightning Network → this means that you can directly tip a content creator if you find their post to be valuable 🤯
Valuable insight on a specific topic? ZAP ⚡
A well-produced video, or beautiful image? ZAP ⚡
Hilarious meme you send to all your friends? ZAP ⚡
Here's how that process looks: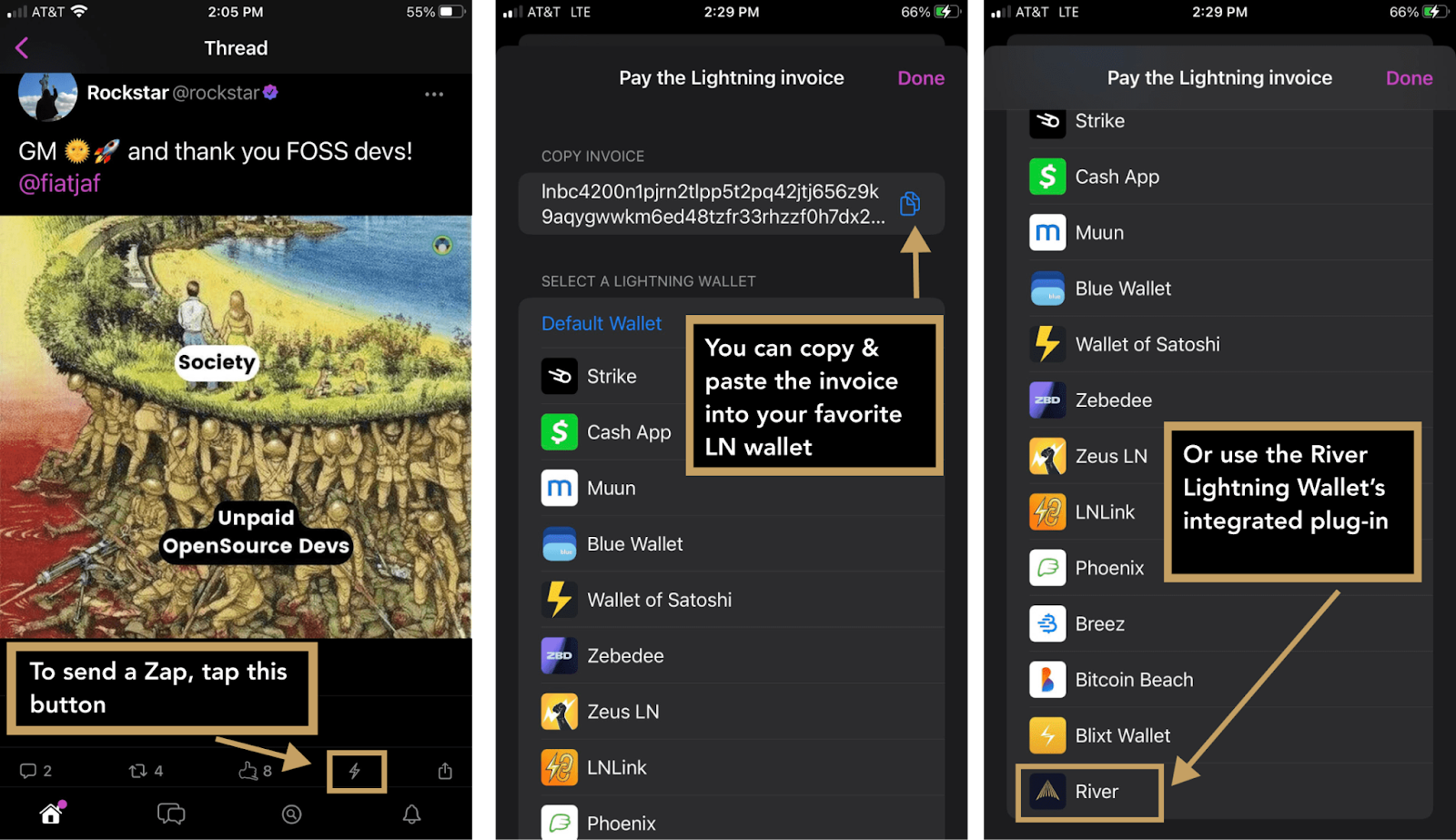 Nostr Zaps are an innovation in directly supporting your favorite content creators, and we are excited to watch the protocol as it evolves
Fast-moving media applications that are creating value for users by leveraging the flexibility and instant-settlement capabilities of the Lightning Network
The Lightning Network enables these platforms to customize their product and service offerings to directly address the specific needs of their audiences – expect to see more innovations 🔜
Best of Bitcoin Twitter 🐦
Bitrefill, the largest commerce platform in the industry, shared unique insights into the popularity of payment methods over time, including Lightning!
Our take: It is no surprise to see Lightning has a relatively small share of adoption, given Bitcoin's fees have been relatively low.
Our Take: Previously the ministry tried pushing for a Bitcoin mining ban across all of the EU, instead this different approach is also hurting big companies like Microsoft's data centers.
Our Take: Demand response programs have a demonstrably positive impact on power grid's base-load stability. However, from the perspective of hashrate decentralization, a few miners deciding to move their operations out of Texas may not be such a bad outcome.